If you want to add something extra to your summer vacation and don't want to go to the usual cities or beaches, why not consider a boat trip? You can relax after a hard day's work while enjoying the gentle breeze. Surrounded by the sparkling blue sea, you can hear the murmuring, see dolphins, turtles, and maybe even sea birds.
Sa Dragonera Nature Reserve – Mallorca, Spain
An island in the shape of a dragon – a great must-see place, especially if you are a Game of Thrones fan. But even those who have trouble finding sleeping dragons on the island of Sa Dragonera, on the west coast of Majorca, would do well to add this nature reserve to their vacation plans. The island can be reached by boat from Port d'Andrx, Camp de Mar, Paguera, and San Elm. If you want to go to the island privately, you will need an anchoring permit. Diving areas, hiking trails, and the Farr Vell Lighthouse with its impressive panorama of Majorca's coast invite you to explore. Few other places in Majorca offer such an escape from the crowds.
Lavezzi Islands – Corsica, France
The Lavezzi Islands, located between Corsica and Sardinia, beckon sailors and day-trippers to the dreamy azure waters of the Mediterranean. Bays of white and golden sand, granite rock formations, and a diversity of flora and fauna make this archipelago special. Only the island of Il de Cavallo is inhabited, the others are almost untouched. Therefore, it is not surprising that the Lavezzi Islands are under nature conservation. Only Lavezzi, Cavallo and Piana are open for entry. You can start your boat trip from Bonifacio, south of Corsica. Whichever island you land on, you'll find an idyllic Mediterranean landscape with the scent of laurel and wildflowers, the sound of seabirds and dolphins in the air.
Lalaria Beach, Skiathos, Greece
White pebble beaches, turquoise waters, and picturesque chalk cliffs- this Greek island in the Aegean Sea is a fascinating place to visit, especially for those traveling by boat. You will be mesmerized by the scenery that looks like something out of a painter's table, sailing along the coastline on the crystal clear waters. The island of Skiathos has several protected bays with beautiful pebble and sandy beaches. The beach of Lalaria is particularly impressive with its underwater rock gates, where it is said that swimming will give you eternal youth. Those already on a boat can soon explore the nearby sea caves. Depending on the sun's position, they emit a fascinating shimmering blue color.
 Heart Shaped Island – Garešnjak, Croatia
Few people know its name, but everyone knows its shape is that of a perfect heart. This is about the Croatian island of Garešnjak. It is located between the coast of Dalmatia and the island of Pashman. Undoubtedly, it is an extraordinary natural work of art. There are only four heart-shaped islands globally, and Garešnjak is the easiest one to explore.
This island is a great place for romance and can only be reached by your own or chartered boat. You can enjoy a picnic on the small island, but of course, the island is best seen from above. Croatia is a dream destination for boat trips with thousands of small islands. There is no other country that offers as much in the way of waterway travel as Croatia.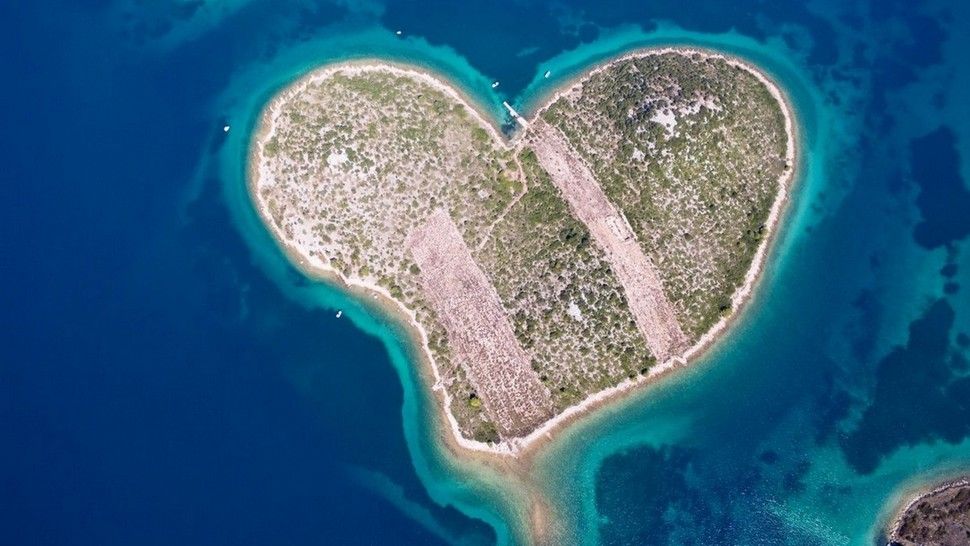 Skellig Michael – Ireland
It is not only the Mediterranean countries that have treasures that can only be reached by boat. How about a trip to Skellig Michael Island off the southwest coast of Ireland? This rocky island was made famous as Luke Skywalker's hideout in Star Wars Episode VII: The Power Awakens. As a result, visitors have grown enormously since the movie's release. However, even when the sea is calm, it is not entirely safe to anchor there, so you cannot go alone. Adventurous people can enjoy the rugged beauty and wild, romantic nature of this island.
Have you ever been to any of these destinations Share your experience with us in the comments below!