Newcastle-Upon-Tyne, often referred to simply as Newcastle, is a vibrant and historic city in the northeast of England. Known for its rich industrial heritage, stunning architecture, and warm Geordie hospitality, Newcastle is a destination that offers something for everyone. Whether you're interested in history, culture, or just having a good time, Newcastle has it all. In this article, we'll take you on a tour of the top 10 places to visit in Newcastle-Upon-Tyne.
Newcastle Castle
Start your exploration of this captivating city by visiting Newcastle Castle, which stands proudly on a hill overlooking the River Tyne. Originally built by the Normans in 1080, the castle has a long and storied history. You can take a guided tour to learn about its role in the city's development and enjoy panoramic views of Newcastle from the castle keep.
Quayside and Millennium Bridge
The Quayside is one of Newcastle's most picturesque areas, with its iconic Millennium Bridge as the centrepiece. Take a leisurely stroll along the riverside, enjoy street performers, and stop at one of the many cafes and restaurants. In the evening, the bridge is illuminated and tilts to allow ships to pass through, creating a stunning spectacle.
BALTIC Centre for Contemporary Art
Located on the south bank of the River Tyne, the BALTIC is a cutting-edge contemporary art gallery housed in a converted flour mill. It hosts a diverse range of exhibitions, workshops, and events, making it a must-visit for art enthusiasts. The rooftop offers breathtaking views of the city and the river.
The Victoria Tunnel
Discover a hidden gem beneath the streets of Newcastle by exploring the Victoria Tunnel. Originally constructed in the 19th century to transport coal, it has been transformed into an intriguing historical attraction. Guided tours take you on an underground journey through its dark and mysterious passages, shedding light on Newcastle's industrial past.
St. Nicholas' Cathedral
Immerse yourself in history and architecture by visiting St. Nicholas' Cathedral, a stunning Gothic-style church in the heart of the city. The cathedral's interior is a masterpiece of stained glass and intricate stonework, and you can climb the tower for a fantastic view of the city.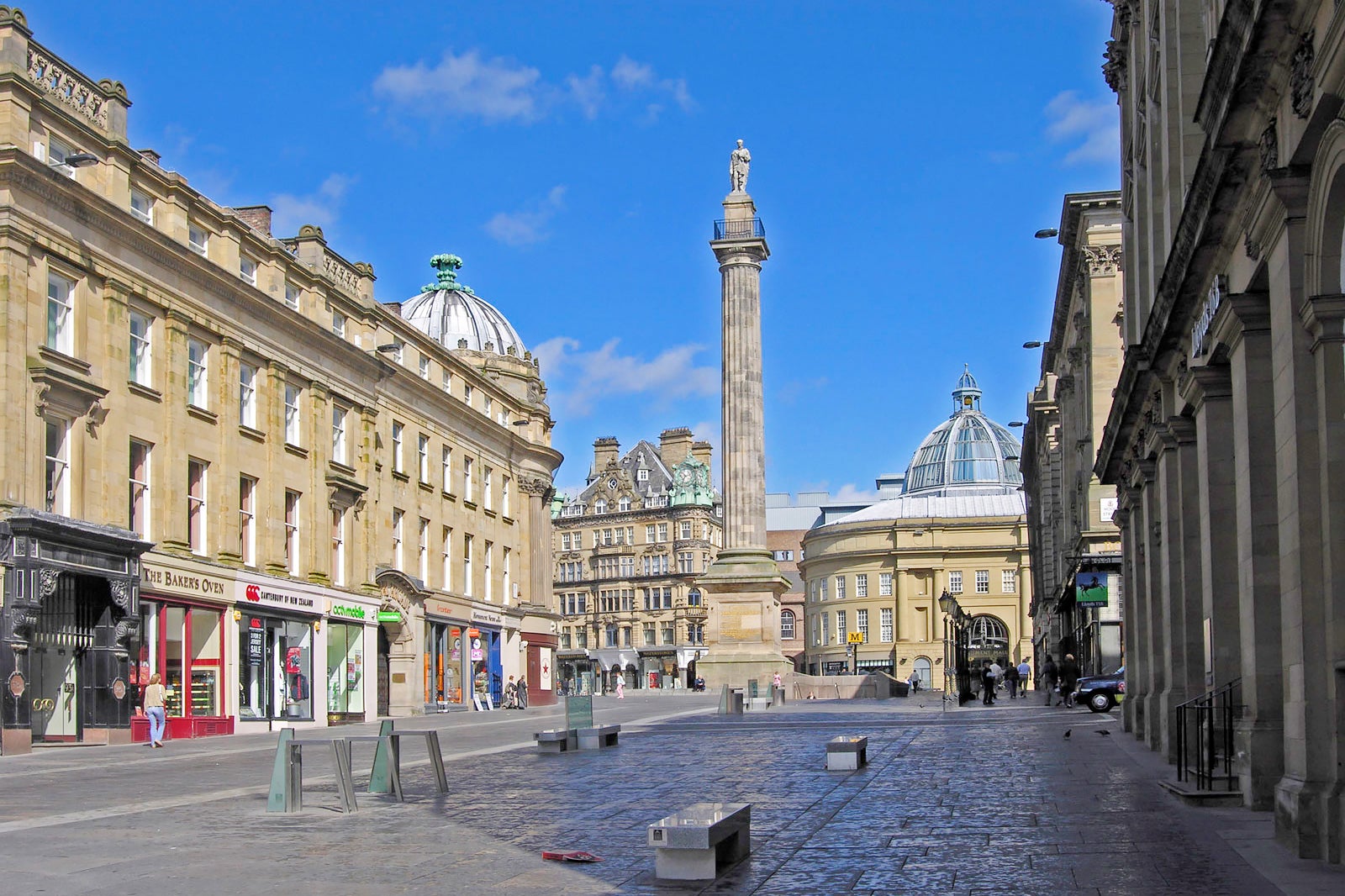 Jesmond Dene
Escape the hustle and bustle of the city with a visit to Jesmond Dene, a picturesque urban park just a short walk from the city centre. This tranquil oasis features wooded areas, waterfalls, and wildlife, making it perfect for a leisurely stroll or a picnic.
The Discovery Museum
If you're a fan of science, technology, and history, the Discovery Museum is a must-visit. This interactive museum showcases the city's industrial and maritime heritage, featuring fascinating exhibits like Turbinia, the world's first steam turbine-powered ship.
Grey Street and Grainger Town
Newcastle boasts some of the most impressive Georgian architecture in the UK, and Grey Street is a prime example. Take a leisurely walk along this elegant street and explore the surrounding Grainger Town area, which is filled with historic buildings, boutiques, and cosy cafes.
The Great North Museum: Hancock
For a family-friendly outing, head to the Great North Museum: Hancock. This museum houses a vast collection of natural history, archaeology, and art. Highlights include a life-sized T-Rex skeleton, Egyptian mummies, and interactive exhibits that make learning fun for all ages.
The Sage Gateshead
Conclude your tour of Newcastle by enjoying a performance at The Sage Gateshead, a striking concert hall and cultural centre located on the banks of the River Tyne. Whether it's classical music, jazz, or contemporary performances, The Sage offers a diverse array of events that will leave you inspired.
Newcastle-Upon-Tyne is a city brimming with history, culture, and natural beauty. From its historic castle to its vibrant Quayside, this city offers a wide range of attractions for visitors to explore. Whether you're interested in art, history, or simply enjoying the friendly atmosphere of the Geordie culture, Newcastle has something to offer every traveller. So, pack your bags and get ready to discover the magic of this charming city on the banks of the River Tyne.