Most people love sweets. But what if instead of the typical cakes and chocolate, we opt for a dessert served with spicy red paprika? How about some bacon donuts? Each national cuisine has such an unusual recipe that outsiders have no choice but to observe them suspiciously, from afar. We've found for you the strangest sweets from around the world, and some of them are quite far from the usual image we have in our minds of what a delicious dessert means.
#1. Battered Chocolate Bar, Scotland
This famous Scottish delicacy is sold everywhere in Scotland. Of course, the "Mars" bar is not the most unusual thing that can be served. Still, this dessert is definitely in high demand among local children and teenagers. So, we ask ourselves: what does this taste like?
 #2. "Water Drop" Cake, Japan
That's the perfect dessert for those who take care of their figure. In the "drop" of water, called "Mizu Shigen Mochi" in Japan, you'll find nothing but agar-agar and water. It's served with maple syrup and soy flour to add some flavoring tones. This fantastic dish's main secret is pure water, brought explicitly from the Alps (if strictly follows the original recipe).
#3. Chicken Breast Dessert, Turkey
This dish is called "Tavuk Göğsü," and it is based on chicken (that's great for chicken lovers!). The breast is shredded and mixed with rice, milk, sugar, flour, and butter, and on top are sprinkled with almonds and cinnamon, thus obtaining a sweet pudding.
#4. "Cherpumple" Cake, United States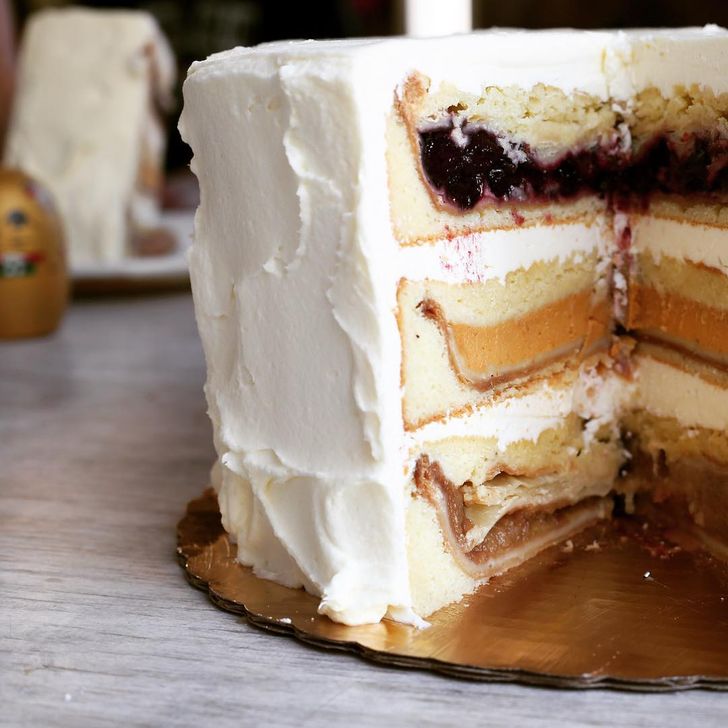 This dish is for those who can't decide what they like best. The cake has compiled for itself the three most classic American cakes: cherry, pumpkin, and apple. All this delicacy is combined with cream cheese and subsequently baked. A slice of this North American treat will give you around 1800 calories.
#5. Cendol, Malaysia
At first glance, this dish looks like those typical noodles with beans and broth, although, for some reason, the color green predominates. These gelatinized rice noodles are actually sweet, the broth turns out to be coconut milk, and the beans are chocolate. Sometimes ice cream or durian is also added.
 #6. Battered Maple Leaves, Japan
The maple, whose leaves are used for this unusual delicacy, is called "Momiji," and it grows only in Japan. The collected leaves are washed in-depth and then placed in barrels with salty water for a whole year. They are then coated in a mixture of flour, sesame seeds, and sugar, to be later fried in plenty of oil.
#7. Donuts With Bacon, United States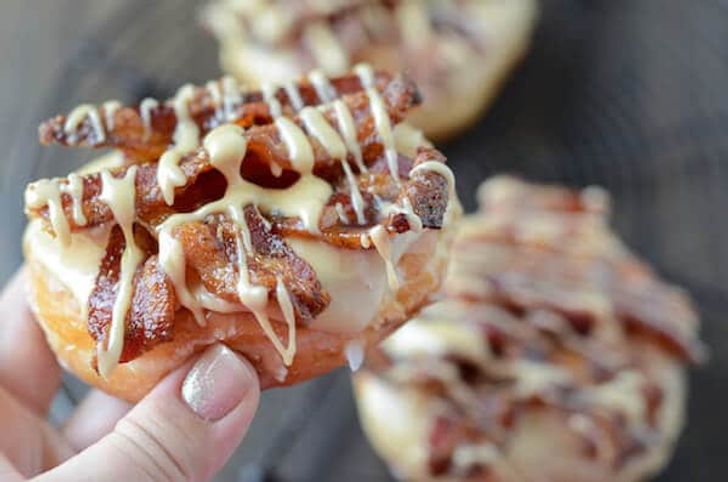 Yes, that's correct! These donuts are a real Homer Simpson dream. They are drizzled with liquid caramel or maple syrup and topped with fried bacon. An unusual combination, but in specialty shops and cafes in this country, they have become quite a popular dish.
#8. Osmanthus Jelly, China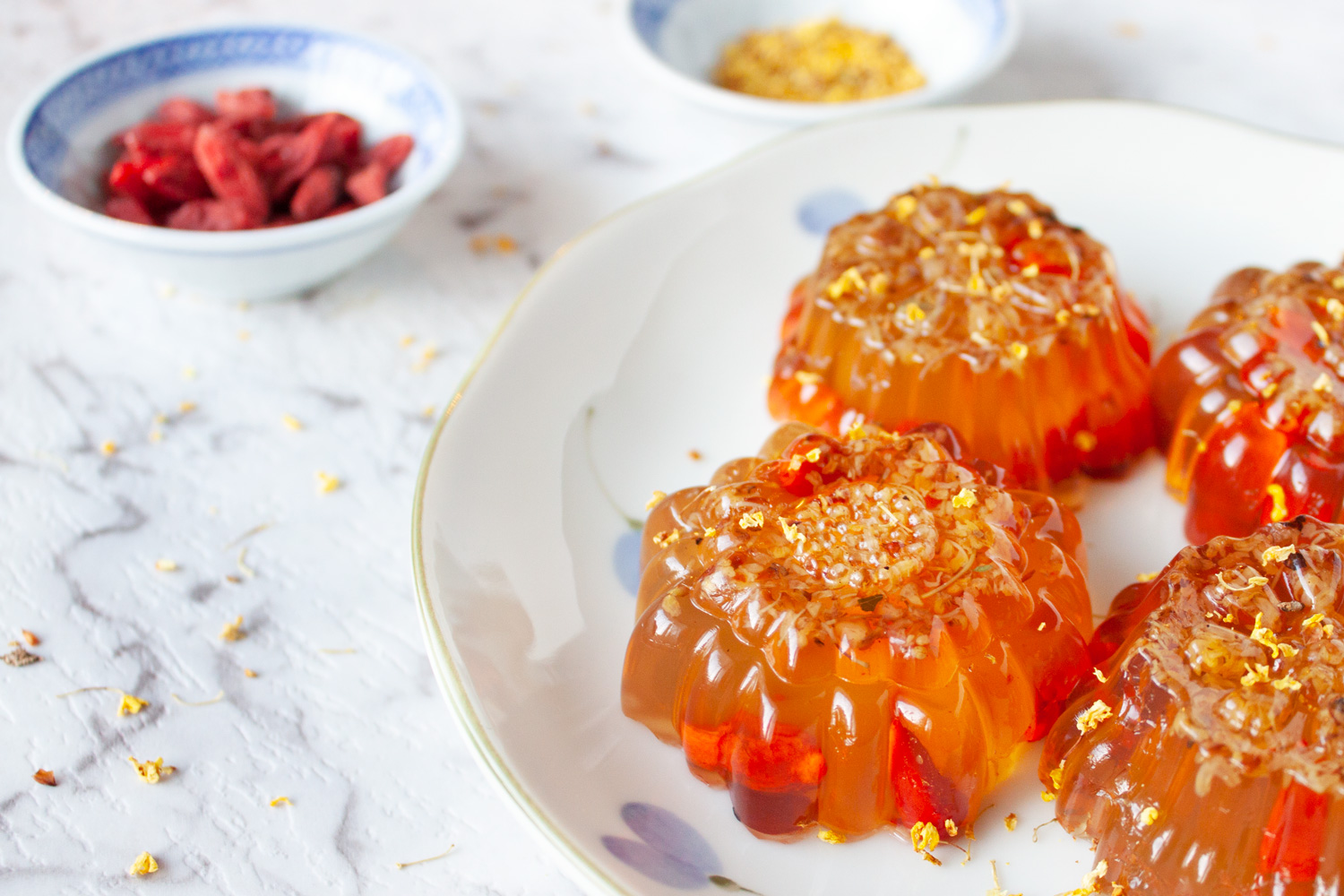 The Tim Ho Wan restaurant serves an unusual dessert: jelly with osmanthus flowers. The original dish is based on gelatinous rice flour, sugar, and osmanthus flowers, and the recipe itself has more than 300 years of history. It is often served as an aromatic supplement with tea.
#9. "Guinness" Beer Tart, Ireland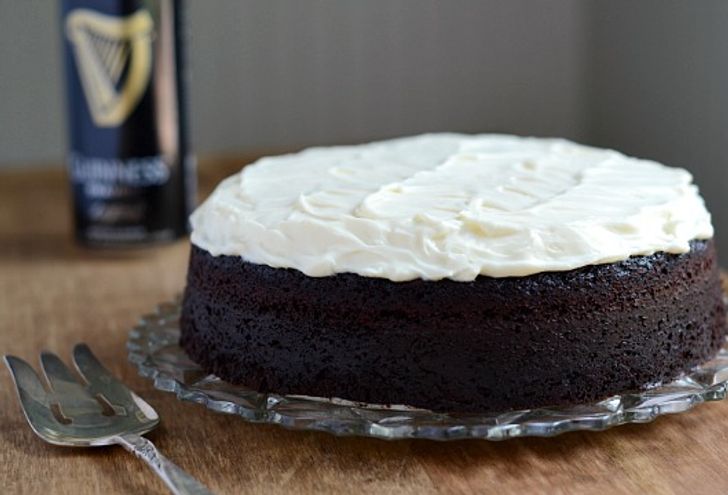 The Irish's favorite drink, later, it has been perfect to combine with a sweet delicacy. On the beer base, the sponge cake is prepared, and on top, it is decorated with whipped cream or melted chocolate. Of course, this dessert lacks alcohol: it evaporates at high temperatures, but that does not detract from its pleasant touches of malt.
 #10. "Gianduia" Chocolate Paste, Italy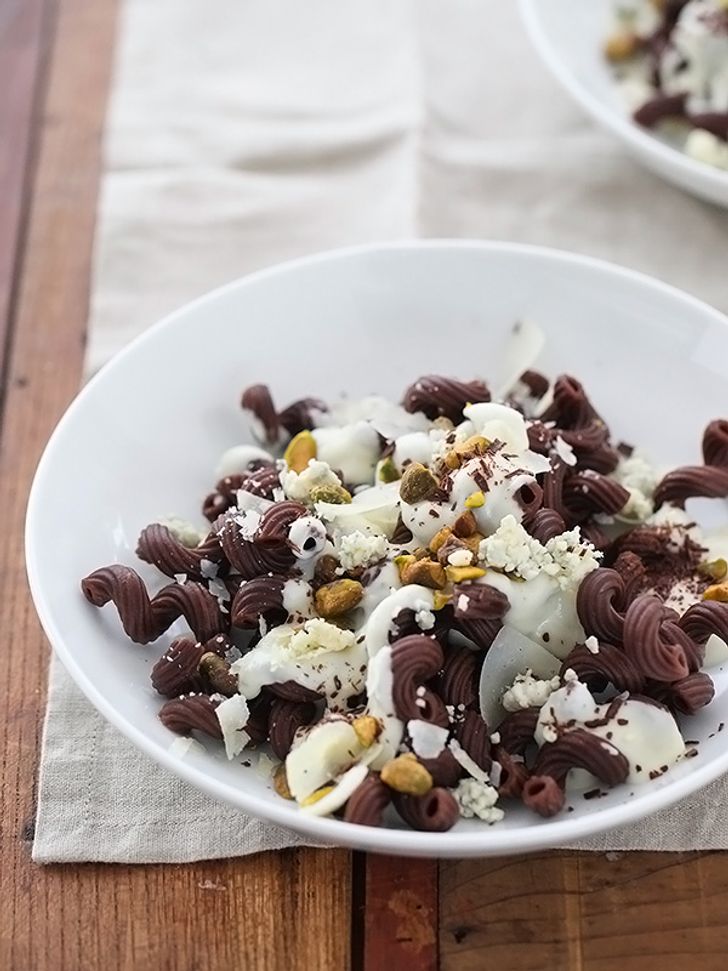 These "original macaroni" are made with water, flour and chocolate, served with pumpkin seeds and walnuts. This dish got its name thanks to the "Gianduiotti" chocolates, made from "Gianduia" chocolate cream. The product was top-rated in Turin during the first half of the 19th century.
#11. Bun With A Chocolate Bar Inside, Japan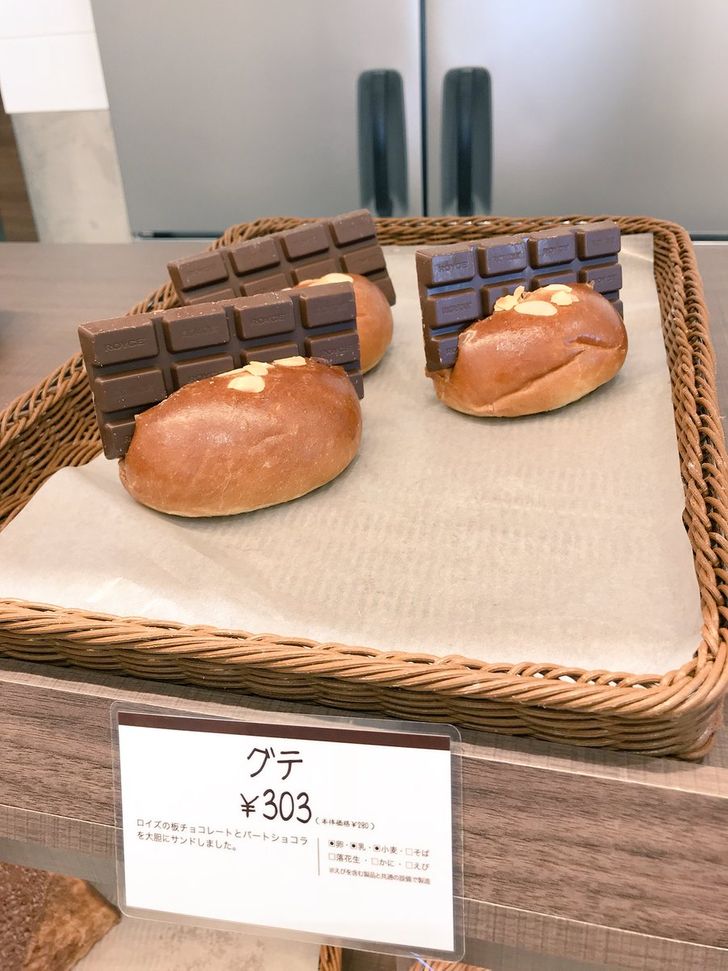 The Japanese didn't even go out of their way and simply placed a thick bar of chocolate on a half-open bun. This delicacy already has variants for gourmets: with strawberry chocolate, and you can find it with 20 bars instead of one.
#12. "Devil's Cake," United States
The "Tres leches" cake is a prevalent dish in Mexican cuisine. But in a Los Angeles restaurant, they decided the recipe was too simple, and they varied it, generously adding hot red pepper. Would you dare to try a dessert like that?
#13. Bovine Tongue Flavored Ice Cream, Japan
The boiled tongue is a typical snack in some countries, but what if this flavor were added to ice cream? The Japanese consider this dessert to be very smooth and pleasant, and it is also loved, not only by its seasoned food lovers but also by ordinary people.
#14. Fried Milk, Spain
No, it's not really milk (in its pure form), but a mild heavy cream. It's baked then cut into pieces that are passed through the flour to fry them in abundant oil. Under the high-temperature influence, the cream melts again and creates a sweet and tender dish with a liquid center.
#15. Milhojas, China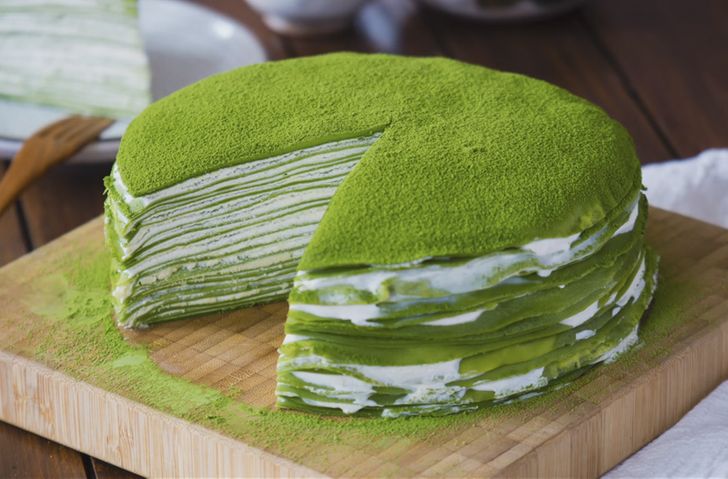 That's what a classic millefeuille would look like if cooked in China. It's made from 10-15 fine crepes based on powdered matcha green tea, spread with whipped cream. On top, this cake is decorated with the same matcha powder.
Which of these desserts would you like to try first and which, under no circumstances, would you dare to taste? Tell us in the comment section below!