Located just off the coast of Lombok, the Gili Islands are a popular destination for travelers seeking a tropical paradise experience. With crystal-clear waters, white sandy beaches, and vibrant marine life, the islands offer endless opportunities for exploration and adventure. In this blog post, we'll look at some of the best things to do in the Gili Islands.
1) Snorkeling and Diving
One of the top things to do in the Gili Islands is to explore the underwater world. The islands are home to diverse marine life, including colorful coral reefs, turtles, and tropical fish. You can rent snorkeling gear from various shops and dip in the waters right off the beach. If you're looking for a more immersive experience, sign up for a diving excursion with one of the many dive centers on the islands.
2) Island Hopping
The Gili Islands consist of three islands: Gili Trawangan, Gili Meno, and Gili Air. Each island has its own unique charm and character, making island hopping a must-do activity. You can easily hop between the islands by taking a short boat ride or joining a guided tour. Each island has its own attractions, from the bustling nightlife of Gili Trawangan to the secluded beaches of Gili Meno.
3) Cycling
One of the best ways to explore the islands is by cycling around. The islands are small enough to be explored in a day, and cycling is a great way to see the sights at your own pace. You can rent a bike from various shops and vendors on the islands. Cycle through lush green fields, picturesque villages, and along the beaches. Don't forget to stop for a refreshing coconut water break!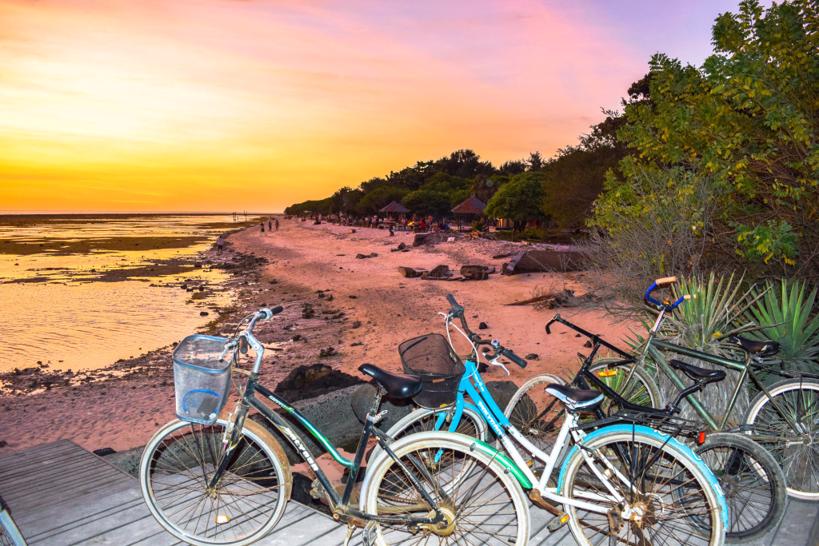 4) Sunset Watching
The sunsets in the Gili Islands are truly spectacular, with the sky ablaze in shades of pink, orange, and red. The islands offer a variety of locations to watch the sunset, from the beachfront bars of Gili Trawangan to the tranquil shores of Gili Meno. Grab a drink and settle in for a breathtaking show.
5) Yoga and Wellness
The Gili Islands are known for their laid-back atmosphere, making them an ideal destination for yoga and wellness enthusiasts. Many resorts and studios on the islands offer yoga classes and wellness retreats, with options for all experience levels. You can also indulge in spa treatments and massages to complete your relaxation experience.
6) Horse Riding
Experience the islands' beauty differently with a horseback riding excursion. You can ride along the beaches and through the countryside, with options for both beginners and experienced riders. It's a unique way to explore the islands and create lasting memories.
7) Local Food
The Gili Islands offer various local cuisine options, from fresh seafood to traditional Indonesian dishes. Many warungs (small local eateries) on the islands offer affordable and delicious food. Don't miss out on trying the local delicacies, such as nasi campur (mixed rice), ayam taliwang (spicy grilled chicken), and sate (grilled skewers).
8) Beach Parties
Gili Trawangan is known for its lively nightlife, with various bars and clubs offering nightly entertainment. You can dance the night away under the stars with your toes in the sand. The parties on Gili Trawangan are known for their festive atmosphere, making them a must-visit for those looking to have some fun.
In conclusion, the Gili Islands offer endless opportunities for adventure and relaxation. So whether you're looking for an action-packed vacation or a laid-back getaway, the Gili Islands have it all. With its beautiful beaches, vibrant marine life, and various activities, it's no surprise that the Gili Islands have become a popular destination among travelers.