Some amusement parks are a true spectacle, a vacation destination for children and adults who return to childhood. The emotions follow one another through the most spectacular attractions and parades. The theme varies: from adorable princesses and fairies to fictional villains, through magical and historical worlds, there are them for all tastes.
These recreational spaces achieve a perfect combination of fun, entertainment, and excitement; they are places to have a great time and forget about everything. In this article, we gathered a list of some of the best amusement parks around the world.
Universal Studios Hollywood, Los Angeles (USA)
It is a large film set located in the Hollywood district, in the city of Los Angeles. In the park, you can not only go up to its attractions and roller coasters, but you can also take a tour through the sets of different movies and television series. Highlights an area of the park is fully dedicated to the world of Harry Potter and his films and the Waterworld show, which allows you to see impressive action scenes up close, from shootings and explosions to a plane crash.
Islands of Adventure, Orlando (USA)
It is part of the Universal Orlando Resort complex and is a place where you will find Marvel superheroes, the dinosaurs Jurassic Park, water attractions, and the magical world of Harry Potter, among other fantastic adventures.
Disney Animal Kingdom, Orlando (USA)
A Walt Disney World Resort theme park whose theme focuses exclusively on conserving nature and animals. The Tree of Life , a gigantic artificial tree, is the icon of the park. And within the enclosure you can go on safaris to Africa where you can see wild animals, travel through the rapids of the Chakranadi River, travel to the time of the dinosaurs and a visit by train to Mount Everest, among many other things.
Magic Kingdom Park, Orlando (USA)
It is a theme park located at Walt Disney World Resort in Lake Buena Vista, which opened in 1971. Cinderella's castle with nightly fireworks is world-famous. A place designed for the whole family, the Disney characters stand out: Mickey Mouse, Minnie, Donald, Goofy, … there are also some roller coasters but, above all, there are many shows and play areas for the little ones.
Universal Studios Florida, Orlando (USA)
Universal Orlando is decorated like a movie set, and its attractions are based on movies and television, such as Men in Black, The Mummy, the Simpsons, and Transformers. There are many 3D attractions and amazing special effects shows. There is also an area dedicated to the magical world of Harry Potter, and the Hogwarts Express train connects this park with the Islands of Adventure.
La Puy du Fou, Les Epesses (France)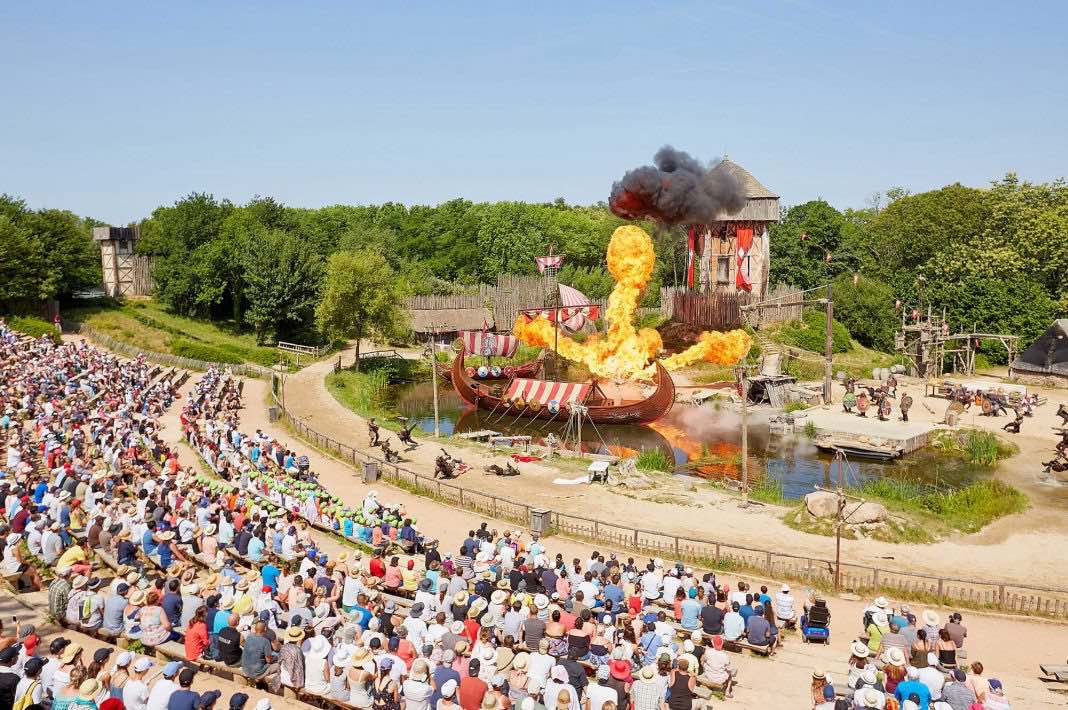 Located in a 50-hectare forest, next to the castle of Puy du Fou, in western France, this park offers a journey through history through its shows characterized: Romans, Vikings, knights of the Middle Ages, sworders, dancers, elves, nymphs … theatrical and realistic representations on one of the most significant stages in the world.
Tivola Gardens, Copenhagen (Denmark)
It is one of the oldest amusement parks in the world that still maintains the charm of yesteryear. It opened its doors for the first time in 1843, it was King Christian VIII who ordered its construction. It has a beautiful garden, a lake with boats, a Chinese pagoda, and an authentic Arab palace, among other buildings. And in its more than 30 attractions, we can discover Norse mythology with the Valhalla castle, there is also a space dedicated to the stories of Hans Christian Andersen, and the Ferris wheel offers us beautiful views of the city.
Have you been to one of those amusement parks? Share your experience with us in the comments below.