Being one of the most appreciated cuisines worldwide, Morocco is home to a rich selection of delicious flavor food combinations. The dishes' influence is felt all over the world, and tasty treats await you on your visit to this beautiful country. The various spices and the fresh and sumptuous ingredients turn this place into an experience nobody else has ever had before. Its streets are infused with the fragrances of delicious dishes that shouldn't be missed! If you have Morocco on your vacation list, here are a handful of delectable desserts to savor during your stay in the country.

1) Ghoriba
The Middle Eastern cookies, ghoriba are available in several versions. Some of them have a crunchy texture, whereas others are chewy. These are traditionally shaped like disks or balls and usually have distinctive cracks on the top. Ghoriba cookies are mainly made up of flour, oil, sugar, and almonds. Serving ghoribas with a cup of coffee or tea on the side is recommended.

2) Moroccan Pancakes
Baghrir is also known as 1001-hole pancakes. Their surface is full of numerous small holes that appear during cooking. This gives the pancakes a fluffy and light consistency. They are popular as a snack between meals. Don't forget to try them!

3) Halva Dyal Makina
Mixed ingredients go through a meat grinder with a curved tip to prepare these tasty dough-based cookies. The tip is what gives them the iconic spiral shape, but if you wish to make them on your way back home, a cookie press or a pastry bag should do the trick!

4) M'hancha
M'hanncha is sometimes referred to as the 'Moroccan snake cake.' It's a dessert made from a strudel of wrapped filo dough – hence the name. The dough is rolled out into a long tube filled with almond paste and flavored with orange blossom water and pistachios. Cinnamon is also usually sprinkled on top when served.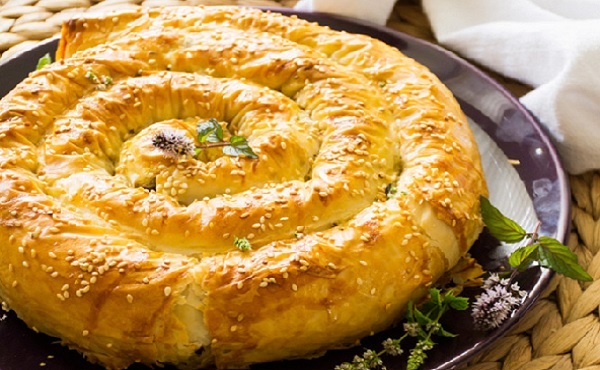 5) Pastilla
Originally from Fez, the Pastilla is a delicious pastry containing pigeon meat. Yes, you read that, right! But don't freak out. They also have almonds, eggs, saffron, cinnamon, sugar, fresh coriander, and are absolutely delicious! So don't let the pigeon scare you; this delicacy is exceptional.

4) Sfenj
The Sfenj is a famous Moroccan donut made of fresh, sticky dough. Traditionally, the dough is shaped into rings and fried to get a golden and crunchy texture. The inside is usually fluffy, chewy, and chewy. They are generally served warm when sold by street vendors and maybe eaten both plain or topped with powdered sugar.

6) Mahalabia (Milk Pudding)
Mahalabia is more than just a milk pudding. This cream-like dessert is flavored with orange blossom water or rose water and is often garnished with pistachios and rose petals. Mahalabia a typical oriental dessert that you can savor in Morocco only!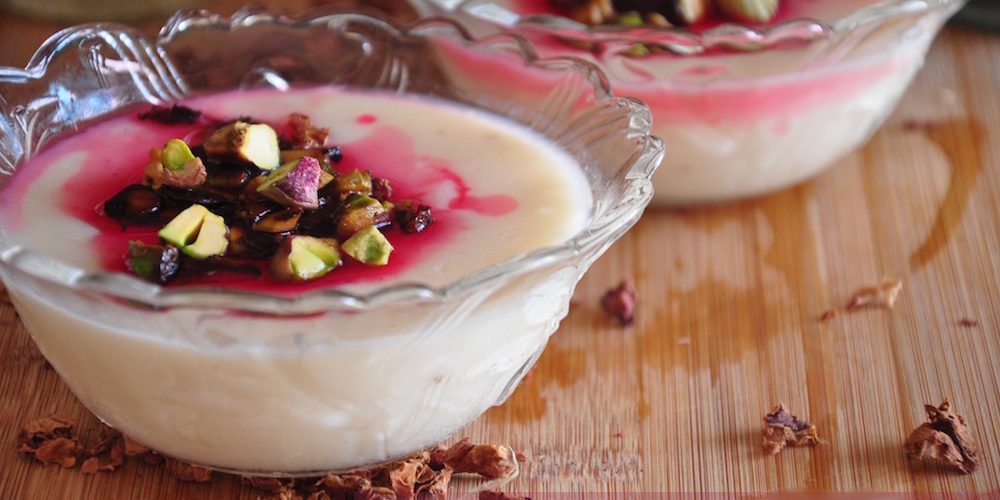 7) Basbousa (Semolina Cake)
Basbousa is a succulent sheet cake made of semolina, milk (or buttermilk), and other ingredients. It is flavored using orange blossom water and covered with homemade syrup. To complete it, this delicacy is garnished with coconut flakes and almonds.

8) Stuffed Dates
There are hundreds of date species in Morocco. The warm climate in the southern part of the country is ideal for the growing and fruiting of palm trees. Each variety gives a distinct taste to this sweet treat, If you're a fan of dates, you won't have to travel far to find them during your visit. These are especially popular during Ramadan, where many people break their fast with a glass of milk and a few dates.
Which of these desserts have you ever tried? Did you like it? Share your thoughts with us in the comments below!