Like the rest of us, you may not have thought of South Korea as a country to visit. In that case, we advise you to rethink. It is a fascinating country with beautiful beaches, scenic islands, relaxed nature, divinely good food, and stately palaces and temples. Travel here before everyone else does! We have listed the top places to visit in South Korea. If you haven't read the first part of this article, check it out now and discover more amazing destinations to visit in this beautiful country!
Gyeongju
This is the capital of the ancient kingdom of the Silla dynasty, the kingdom's center for almost 1000 years. This place is full of historical treasures, from giant tombs built under false hills to temples from the Buddhist golden age. Impossible to miss the Bulguksa Temple, the traditional village of Yandong, or Mount Namsan. You can even go by bicycle, making the visit much more idyllic. 
Seoraksan National Park
If you are looking to change the chip a bit and go from the great metropolises of South Korea to the wildest nature, this national park is among the most beautiful in the world. Seoraksan National Park is an unspoiled area in eastern Korea, full of rugged mountains and promenades, from which you can admire the most spectacular views. You can ascend by cable car, visit the Sinheungsa temple in the middle of the mountain, and the giant statue of Budha Jwabul.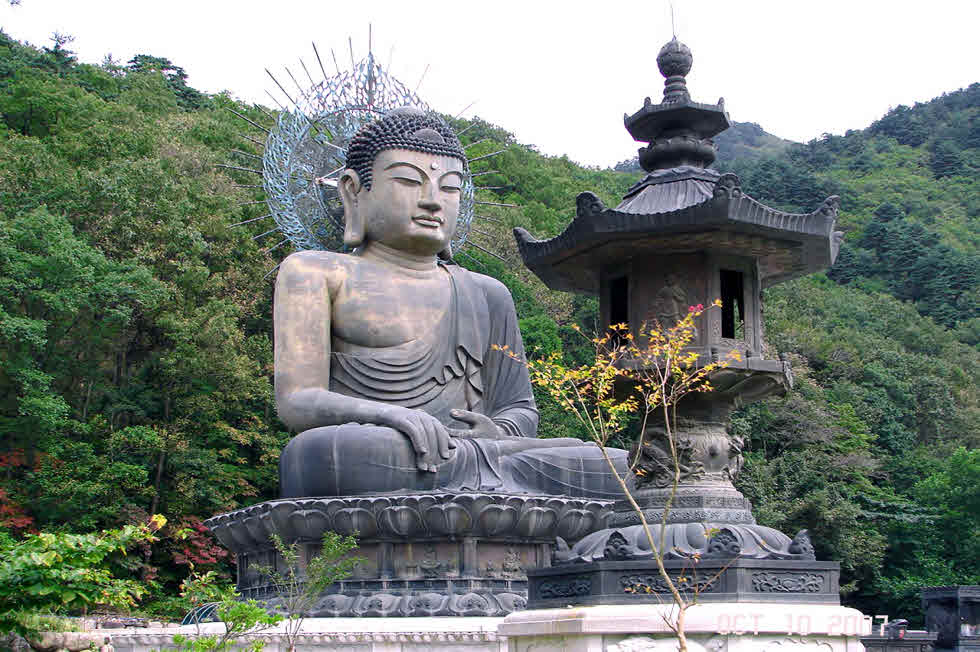 Cheongpung Cultural Heritage Park
In Chungcheongbuk-do province, South of Seoul, you can visit this park. Here they gather buildings of Korean heritage and historical relics. Something like a museum, but in the open air, in which you can see the legacy that was saved in 1985 from being underwater when Chungjuho Lake was built. Confucian sculptures, pavilions, and schools are among the 2,000 objects in the park. If you visit it, pay attention because surely on your route you will come across some of those trees that they call "of love," because when they grow, they come together to become one.
Suwon
Thirty kilometers south of Seoul is the city of Suwon, which could go unnoticed by the traveling eye if it weren't for its fortress, a UNESCO world heritage site. It is the only complete walled city left in the country, with stone walls, courtyards, and traditional Korean buildings. Of course, today, the city has grown so much that the walls of Hwaseong only surround the historic center of this picturesque location.
Andong
This traditional Korean village follows the same style as that of Gyeongju, with families that have lived in the area for more than 600 years and maintain Confucian culture customs. Surrounded by nature, Andong's Hahoe Folk Village is full of low, thatched-roof houses. It is so different, ancient, and traditional that it has been named a UNESCO cultural heritage site.
Busan
Known for its beaches, mountains, and seafood, South Korea's second city offers a range of first-class attractions for all travelers. Busan is the coastal version of Seoul. A large town in the South of the Korean peninsula is the great port of entry. And it is full of skyscrapers, with the largest department stores in the world. But it also has Gamcheon Culture Village, a neighborhood of colorful houses, wonderful natural coves, and even a Buddhist temple by the sea, the imposing Haedong Yonggungsa. It certainly deserves to be on our Korean travel list. 
Let Yourself Be Immersed on Jeju island
They call it the Hawaii of Asia. And it is that this subtropical island in the South of South Korea is built around an ancient volcano all covered with vegetation. There we can find the Hallasan National Park, with the highest mountain in Korea. But we can also go through old lava tunnels, enjoy coastal food, discover the famous female divers of Jeju and even visit Loveland, a sexual theme park where everything is shaped like a penis. Because that's how Korea is, a country of contrasts with surprises around every corner.