Travel Colorado: Roads And Mythical Mountains!
Anastasia takes us in a road-trip in the USA in a camper van, far from what we are used to seeing. This trip to Colorado brought them to the Rocky Mountains and Utah, New Mexico, and Denver. They made a perfect stay, which combines natural parks, cities, and cowboy and rodeo culture! Yes, a 3-weeks tour in the US makes you want to hit the road right away – in a camper van, of course, to enjoy the United States' magic with your family!
Why choose Colorado for this motor home tour?
We chose this part of the USA by the motor home because we had already traveled to the American West, and we were dreaming of setting our feet on the Rocky Mountains. Personally, this is what I have preferred among all of our trips to the USA with our family! The other advantage of coming to this area is also, perhaps, to discover beautiful landscapes.
What was your itinerary for this trip to Colorado?
We made a road trip Denver – Denver with the visit of 3 states of the United States (Colorado, Utah, New Mexico). We left over 23 days to take the time to enjoy the trip.
In total, we made 3500 kilometers with stages from 1h30 to 4h. I would say that on average, we were 1h30 or 2 hours per day by car.
Here is the detail of our itinerary in the USA by motor home:
– Denver: 2 nights, the time to visit the city, and to recover the camper.
– Rocky Mountains National Park: the fabulous park of the Rockies. We stayed there for 3 nights to enjoy all the parts of this fantastic place.
– Glenwood Springs: 1 night to enjoy the hot springs in a beautiful park.
– Colorado National Monument: we stayed in Moab 3 nights to visit the Arches National Park and the Canyonlands National Park the following days.
– Capitol Reef: another beautiful park! We spent 1 night in Torrey.
– Glen Canyon: the famous one! We spent 1 night in Blanding. Our camp-site had seen on Monument Valley in the distance… nice!
– Durango: 3 nights to visit the city.
– Sante Fe: 3 nights to visit the city.
– Taos: 1 night spent in Pilar, and enjoyed the Rio Grande.
– Great Sand Dunes: 1 night to enjoy the dunes.
– Colorado Springs: 1 night to cut the return trip to Denver.
– Return to Denver
Remember to compare airline tickets to go cheaper to Denver!
What were your favorites during your stay in Colorado?
1 – The Colorado trip as a whole!
This state was my big favorite! It is full of mountains, greenery, and wide-open spaces… yes, it is, without hesitation, my favorite state. What a pleasure to travel through it in a camper van!
In addition to the numerous and fabulous National Parks, we liked its capital city, Denver (also called the "Mile High City" because it is located precisely 1000 miles above sea level). It's worth taking a morning stroll in the downtown area (16th Street mall then Larimer Square). At the time of our visit, 16th Street was in pedestrian mode. There were animations, games, and deckchairs. Nice!
Where to sleep in Denver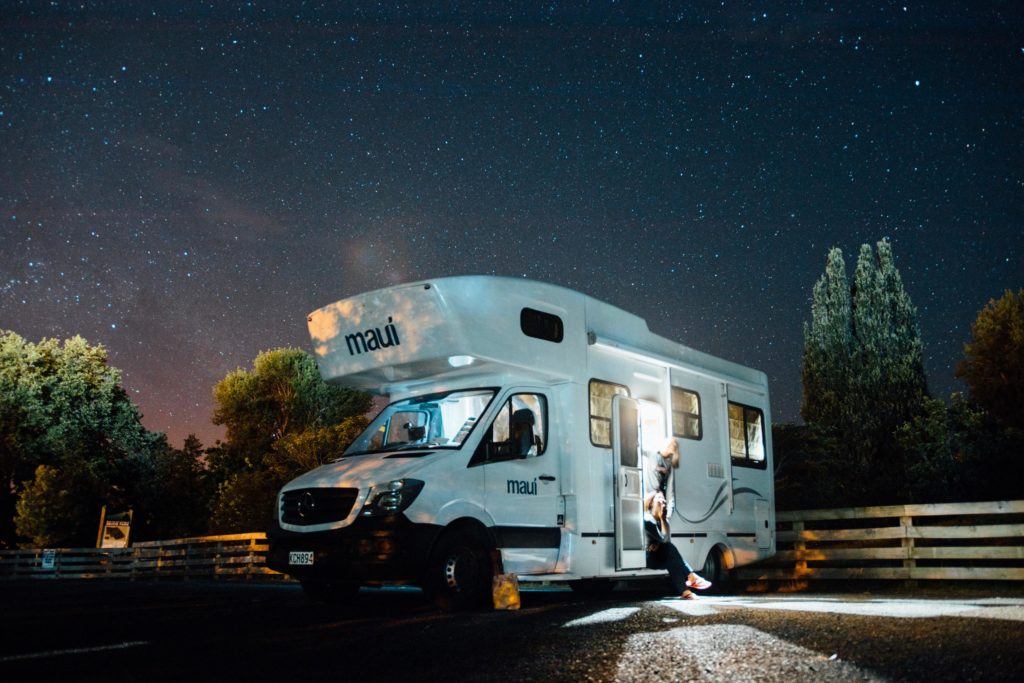 We stayed at the Hyatt Regency Denver at Colorado, ideal for its downtown location. It is also very spacious and suitable for children, and on the top floor, you can see Denver from above.
If you take an RV at the Denver depot, I advise you to sleep at the Dakota Ridge RV resort for the first night in your RV. It's the right place to depart on the Rocky Mountains National Park or other on the following day.
This blog will now continue in the second part. Stay posted, and we'll tell you all about it next time!