Are you traveling to Spain and looking to visit one of the most beautiful villages there? We would recommend you visit Besalú, in the Garrotxa region. Not sure what to see there? Not to worry! In this article, that's exactly what we are going to uncover and if you've missed the first part of our post, you can find it here. Enjoy!
Old Synagogue and Mikvé
Something to see in Besalú in one day is the Mikvé, the jewel of this neighborhood, an ancient bath where the Jews purified themselves. It is currently one of the few surviving examples of Jewish baths. It was discovered in 1964 and consists of an underground room (under the old synagogue) with a marked Romanesque style. It also has a sacred pool filled with water from the Fluviá River.
This mikveh is used by both men and women, but only women are required to use it in a ritual 7 days after the culmination of each menstrual cycle. For years, this place was mistakenly used as a space to store clothing dye. However, after investigations, it was restored as a valuable site for the Jewish religion. No remains of the old synagogue remain, but it is known to have been an important religious site in the past.
Church of Sant Vicenç
In this guide of what to see in Besalú, we cannot forget the church of Sant Vicenç, whose style stands out for its Romanesque character with some Gothic details. It is thought that this church was built in 977, but the temple we know today dates from the 12th century. What is most striking about this church? The decoration on the main door and the side door, which features spectacular winged animals and monsters climbing on the capitals. It is fascinating!
Right next to this church is a chapel, which contains the reliquary of the Vera Cruz donated by the Catalan politician Francesc Cambó in 1923. There is also the gothic tomb of Pere de Rovira, who in 1413 brought the relics of Sant Vicenç to the village of Besalú. This church has been designated as a Historical-Artistic Monument of National Interest.
Besalú Miniatures Museum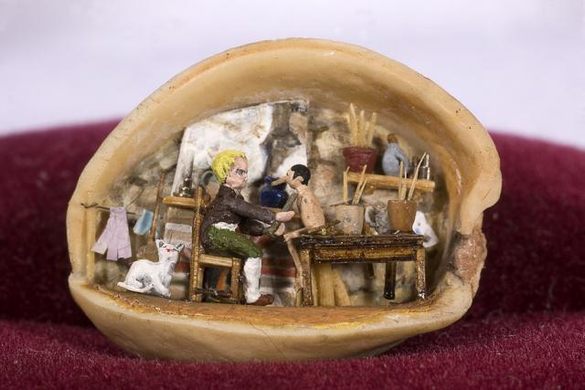 Looking for things to see in Besalú with children? The museum of miniatures and microminiatures is the the place to be. Sharpen your eyesight! Because in this museum you will see multiple works of art with minimal details and which, of course, are so surprising for their very small size. In this museum, founded by Lluís Carreras, you will be able to see several permanent exhibitions and a multifunctional room where some of the works are on display.
Everything in this museum is extraordinary… Imagine that these miniature reproductions are between 100 and 500 times smaller than in reality! Incredible, isn't it? Don't miss to visit its three rooms. This museum is open every day from 10:00 am to 3:00 pm. The entrance fee is 5 euros per person.
La Garrocha Volcanic Zone Natural Park
The Natural Park of the Volcanic Zone of La Garrocha is ideal if you want to take a tour of those places full of nature to see in Besalú and its surroundings. This park covers 11 municipalities, and has about 40 volcanic cones and more than 20 lava flows. In fact, the volcanoes of Besalú are one of its great attractions.
This natural park can be visited by any tourist or resident who wants to get in touch with nature. But remember that this is a private property. Therefore, you must ensure that your visit does not interfere with the daily life of the people living there and does not affect the ecosystem.
On the other hand, the peak hours are from 10:00 am to 5:00 pm and it is recommended to arrive before 10:00 am to have a much more serene view, away from the hustle and bustle. There are several routes to travel through the natural park, with them you can access on foot to any point of the Garrotxa, Ripollès or Alt Empordà through Itinerànnia.
There you are! We've now covered all the must-sees of Besalú. So when are you planning to visit the village. And which place have you decided to go see? Let us know in the comments below!