Travel has become an increasingly difficult feat, filled with anxiety over testing, social distancing and mandatory mask requirements.
Nevertheless, Americans have expressed their desire to travel. While the CDC recommends staying home to reduce the chance of spread of the coronavirus, they provide helpful guidelines on best practices to follow if you decide to travel — such as wearing masks, social distancing and checking local ordinances before traveling.
If you are looking for a safe and socially distanced getaway, here is a list of where you can travel.
Madeira Islands – Portugal
Since the beginning of the pandemic, Madeira has been the safest destination in Europe.
The archipelago took health measures very early on to protect its inhabitants and has remained in the green zone with one of the lowest rates of active cases in Europe.
Before you arrive in Madeira, you will take a test to ensure that you are not a carrier of COVID-19. A simple and efficient website (www.madeirasafediscover.com) allows you to fill in all the information necessary for a safe stay before your departure.
Madeira is recognized worldwide for the beauty of its landscapes and its lush nature. As an island, it is surrounded by the ocean, with the air being up to 100 times less germ-ridden than the air we breathe in many urban capitals. Wearing a mask on beaches, during sports activities (walks along the levadas, trekking, hiking, cycling) is not compulsory. Hotels and restaurants bearing the " Safe and Clean" label will welcome you under very high hygiene conditions set up by the national tourist office.
Portugal is one of the first countries to have developed insurance specifically for COVID-19. For less than 40 euros, your trip, hotels, flights and repatriation are covered if you are found to be positive of COVID-19 during your stay.
Martinique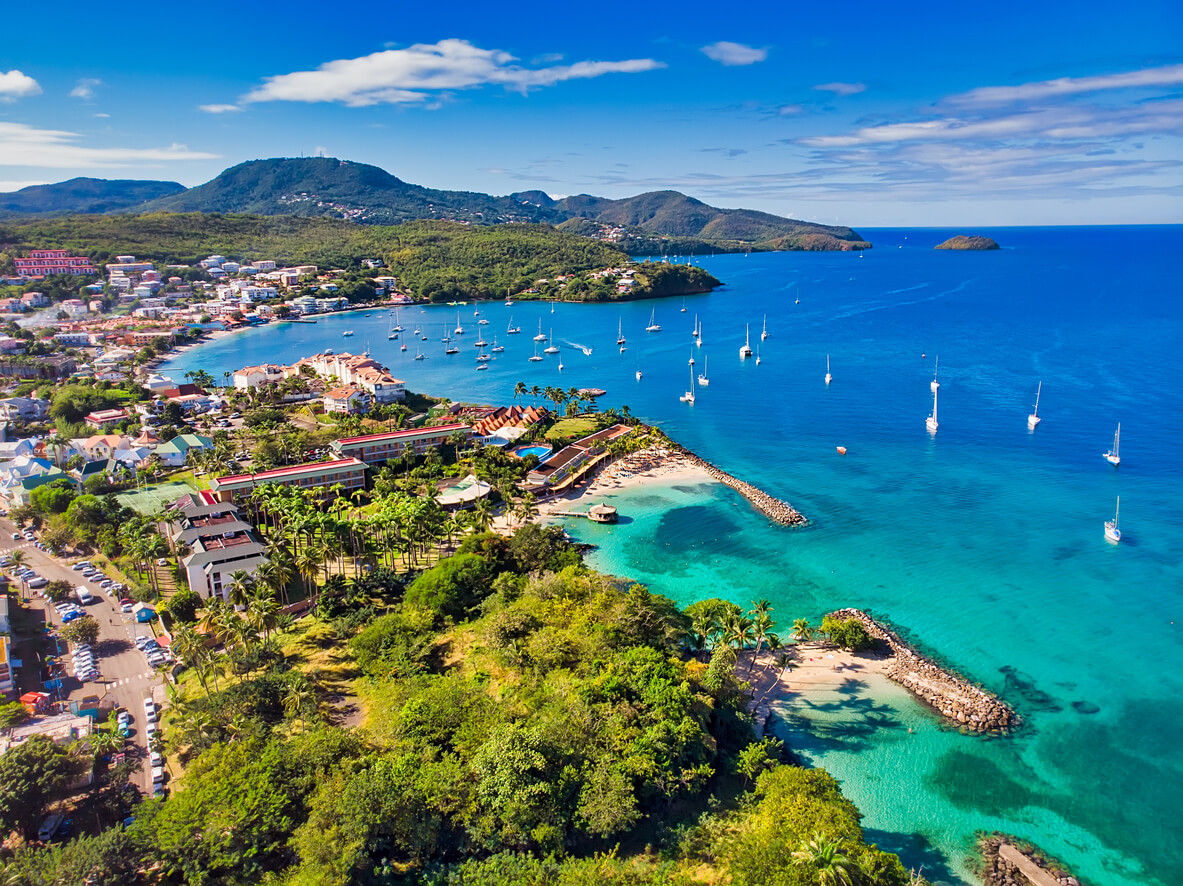 These last few months have been challenging and what you need most is to get away from it all, rest in the sun and admire breathtaking landscapes? If you answered yes to all of these statements, Martinique is for you. With nearly 15 times fewer severe cases of COVID-19 than countries in Western Europe, Martinique is considered one of the safest destinations in the world. A true dream destination, Martinique is also one of the best destinations for gourmet or sporting holidays, amazing hikes on the island of flowers or unusual activities such as canyoning on the massifs of the Mount Pelée volcano or swimming with turtles and multicolored fish and also to discover the seabed of this unique destination in the world.
This island in the Lesser Antilles is a gentle blend of steep hills, beaches, exotic gardens, Caribbean shops and cafes. A true gift of nature, Martinique will seduce you with its spectacular natural landscapes.
Tahiti
This dream destination awaits you for a safe and relaxing holiday in 2021. With three times fewer severe cases of COVID-19 than Belgium and has been less affected than France (up to 3 times fewer deaths per million inhabitants), Tahiti is a perfect destination for a safe holiday.
Tahiti will appeal to everyone, from hiking enthusiasts and scuba diving fanatics to lovers of relaxation and cocktails with their feet in the water.
During your stay, make sure to take advantage of the rich local gastronomy, the Tahitian culture and the lush nature.
Corfu – Greece
With up to 4 times fewer severe cases of COVID-19 (deaths) than the most affected countries, Greece is seen as one of the safest destinations in Europe.
If you are looking for a place that combines nature, sun, sustainable tourism, relaxation, gastronomy, spectacular beaches or culture, Corfu is for you. This destination, along with Madeira, is one of the paradise destinations in Europe which has been relatively spared from COVID-19.
The island is the perfect destination for an unforgettable holiday under the Greek sun. It bears the marks of Venetian, French and British cultures which dominated Greece for centuries.
Do not miss the old fortress of Corfu and its secret beaches such as "The canal of love", the very iconic and photographic Vlacherna Monastery or the old Phanteon Kerykra.
Let us know in the comment section where you are planning your next vacation.