Soft hummus, warm pita bread, grilled vegetables, shakshuka, fresh orange or lime juice, crispy pizza- who doesn't get hungry when thinking about Tel Aviv restaurant meals! But, where is the absolute best place to eat in Israel's second-largest city? Check out some of the best places below!
1) Haachim: One of the Hippest and Tastiest Restaurants in Tel Aviv
Haachim can be the perfect start to your restaurant trip. You will be amazed by the service, with delicious food spread throughout the entire table, from sandwiches with hummus and other creams to salads and grilled vegetables. Everything will be equally divine; you can check out their website to see more. And by the way, let's not forget dessert! Because desserts are delicious at Hachimus, too.
2) Becca Fecco: For Those Who Want Crispy Pizza
Want a great pizza and a fresh salad? Then go to Beccafeco! This restaurant is a must-see with a beautiful courtyard and can be nicely combined with shopping in the trendy Neve Tzedek district. You can have a delicious goat cheese pizza and a delicious caprese salad. Add some freshly made fruit juice, and you will have a complete lunch or dinner.
3) Cofix:  On a Budget But Hungry?
There are Cofix branches throughout Tel Aviv, some of them quite large, but the fact is that you can always get a cheap meal here. Everything on the menu costs 6 shekels or about 1.50 euros. Don't expect a fancy table, as most branches don't have seating. Not only can you buy sushi here, but you can also order steamed buns and smoothies. If you are traveling on a tight budget and still want something to eat, this is an excellent place to go.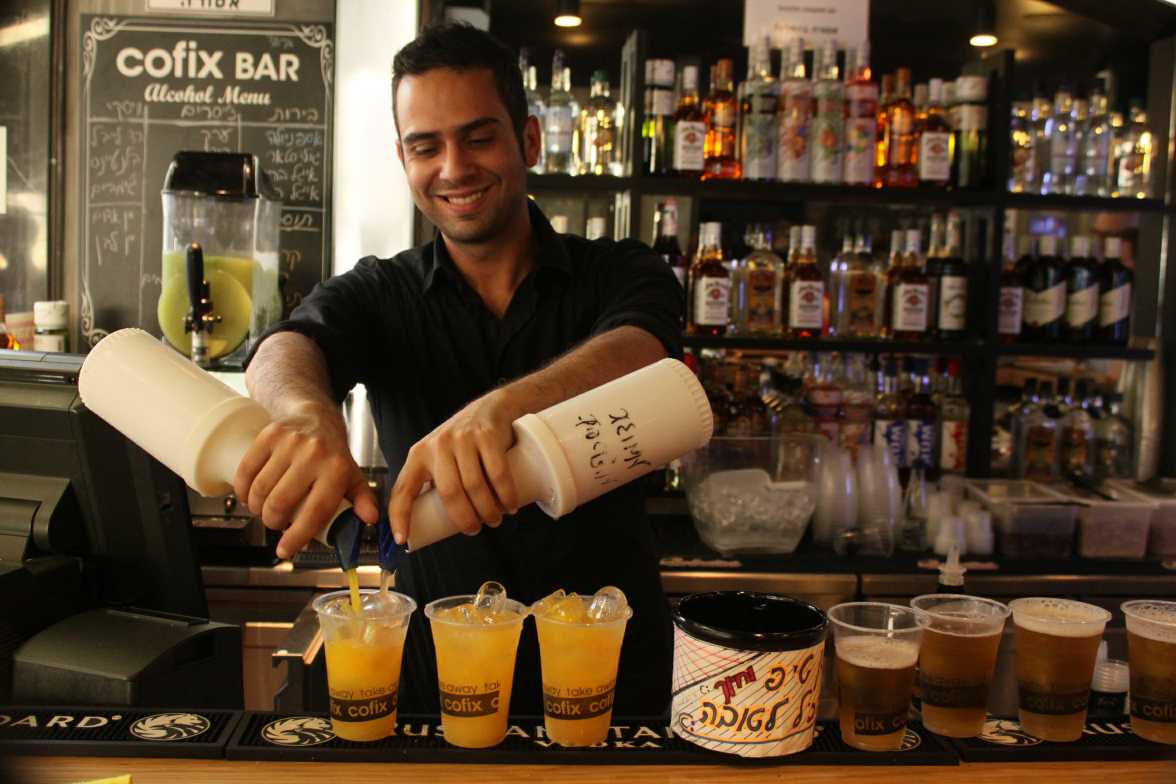 4) 65 Hotel: For Breakfast, Lunch & Dinner!
At 65 Hotel, there is a large terrace outside, and inside there are several tables in the beautifully decorated lobby. At breakfast, the buffet includes delicious salads, all-you-can-eat hummus, fresh fruit, yogurt, various cheeses, and freshly baked sandwiches. For dinner, the menu includes several instagram-worthy meals! You'll be hungry in no time!
5) Dr. Shakshuka: Local Food Restaurant
Dr. Shakshuka may not be hip, but here it feels authentic and local. The restaurant is furnished with long tables that can be shared, and tin pots hang from the walls and ceiling. Here, you will find some of the best shakshuka in town, a dish of tomato sauce, many herbs, eggs, and sausages served in a hot frying pan. Do not eat too many appetizers and bread, or you will not be able to keep up.
6) Beit Kandinof: For Those Who Want a Small Meal Next to Their Cocktail
More of a bar and art gallery combined than a restaurant, Beitkandinof is a place where you can have a drink surrounded by art. There are several studios here, but there is also a bar area where drink-and-draw evenings are organized, and the two blend well together. Also, this building in the Jaffa area is very cool. This is also exactly where you feel Tel Aviv is similar to Berlin.
7) Parakalo: Restaurant With a Great View
This Greek restaurant is located by the sea near Jaffa. It looks very cozy, with colorful chairs lining the terrace. Greek food is almost always delicious. A plate of tzatziki with fresh rolls is always a must-try!
8) Claro
Situated in the Salona Compound, Claro is a farm-to-table restaurant with a pleasant atmosphere. As one of Israel's most beloved chefs, Ran Shmueli serves fresh local produce using creative ingredients, a large open kitchen and tabun (wood-fired oven). They also offer fresh fish, meat, and poultry, as well as handmade pastas and breads.
Have you ever been to any of these restaurants? Share your experience with us in the comments below!