Chai, coffee, chai, coffee? This is the monotonous mantra of the chaiwallah (the train's tea seller) as he moves with his heavy thermos flask. His colleague, carrying a basket of fried food on his head, "Samosa, samosa, samosa!" he shouts. The rhythmic sound of the train in the background, combined with the voices of the vendors, sounds like a gramophone record. An Indian family sitting next to you, the mother already shelling the beans for dinner, the son crawling on a blue bench while the father tries to call the tea seller. Further along, a conductor tells fare evaders to sit on the floor, a teenager playing Hindi pop loudly, and a man trying to stuff six huge bags of rice under a seat. Welcome to India's long-distance trains!
Traveling by Train in India
Trains are the best way to travel throughout India. From the dusty, forgotten corners of the country to the modern metros of Mumbai and Delhi, and of course the popular long distance trains.
In recent years, the quality of train travel has improved dramatically. Where once the toilets were clogged, the compartments crowded, and the food tasteless, there is now a functioning SMS complaint service, the occasional boys stop by with cleaning supplies and mops, and if you're lucky, a curry with warm chapatis. The comfort of your journey will depend on the class you choose, and you may not need to book an 80-hour journey right away, but a train journey is not to be missed on your trip to India. From the time you buy your ticket to the time you reach your destination, you will be inundated with scents, colors, sounds, tastes, beauty, sights, and hospitality. It can also be an intense experience. You can encounter anything on an Indian train, from sweaty armpits to plush carpets.
General Class With Free Seating
This class consists of wooden benches, is the cheapest, and allows anyone to enter the luggage compartment without reservation. In crowded stations, many people will be in a fighting position. To get a seat, they throw their luggage out the window and go in.
On less popular lines, there is a chance that you may be able to get a seat, or if you are a foreigner, you may be offered a seat, which is a fun local experience. This class is not recommended for long distance travel unless you are very adventurous, need to be careful with your money, and don't mind sleeping with your nose between sweaty armpits.
Second Class or Ac Chair
Second class is mainly found on day trains. Tickets must be reserved, but if the general class is crowded, bearded men and families may fight for a place as they become "pirates". There are three-seat benches on either side of the aisle, individual seats on the newer trains, and fans roaring from the ceiling. For the 1,500 km journey, which takes an average of 20 hours, you will pay 300 rupees. You can also opt for reserved seats in the AC chair class, where non-ticket holders are not admitted, compartments are air-conditioned, and seats are padded.
Sleeper Class
Sleepers are recommended for long-distance travel. There are eight berths in this class compartment. There are two triple beds on one side of the aisle and two single beds by the window on the other side. During the day, the middle bed is folded down so that everyone can sit on the lower bed.
Passengers include:
Families on their way to a wedding.
A group of friends on a trip.
School children on a school trip.
The number of tickets issued is slightly higher than the number of beds, so it is always crowded.
Third- and Second-Class Air Conditioned
The third class AC has the same structure as the bed class but with air conditioning. Bed linen is provided, but guests without reservations are not allowed to enter. The advantage is that it's much quieter, and you don't have to defend the fortress from pirates. The second-class carriage has only six beds per compartment and is separated by curtains to ensure privacy.
Air-conditioned 1st Class
This class is only available on famous long-distance trains. The compartment consists of two or four beds. Sheets and towels are provided, and a shower is available. This method is comfortable but is falling out because it costs as much as a plane ticket.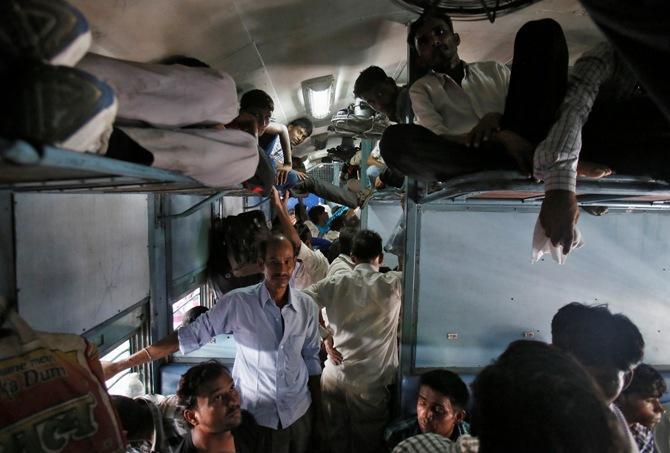 Have you ever traveled by train in India? Share your experience with us in the comments below!