If you want to live your own fairy tale, you should spend Christmas in Germany. This place will fill you with an incomparable Christmas spirit thanks to the joy of its people, its snowy streets, its festive food and its sparkling traditions. Some of its most popular and cosmopolitan cities are Berlin, Munich, Frankfurt and Düsseldorf, but wherever you go, Christmas in Germany will not disappoint.
We know that interesting German cities become even more beautiful during this time. Gothic structures are lit up with neon lights, Christmas pines, ice statues, little houses and wooden nutcrackers are very typical of each region, and there is no shortage of Christmas trees and dreamy decorations.
Whether it's ice skating or eating sausages and chocolate cookies in the street, there is always something to do and no German is afraid of the cold, so the atmosphere is great. That's why in this article we show you the best places to see in Germany at Christmas and share some of their customs and traditions. Go for it!
When is Christmas in Germany?
In Germany, Christmas is celebrated on December 24, 25 and 26. In this sense, the 24th of this month is known as Christmas Eve. On the following two days, people usually gather with their families, in addition to exchanging gifts and intimate moments of gratitude.
How is Christmas Celebrated in Germany?
Christmas is a Christian holiday, however, most Germans, even if they do not identify with this belief, tend to celebrate this holiday. But how is Christmas celebrated in Germany? From a religious point of view, it all starts when Germans go to church for midnight mass, where they remember the birth of Jesus.
In addition, Germany at Christmas is a time to meet and share with those closest to them. It is also common for shopping malls to be filled with people doing last minute shopping. Everywhere there is music and even light shows. And, of course, you can't miss the typical decoration and the Christmas tree. A trip to Germany at Christmas will be something totally unforgettable!
Christmas Markets in Germany
One of the Christmas traditions in Germany are the famous markets, where you can find all kinds of souvenirs and delicious food. Thus, throughout the day and part of the night, you can enjoy one of the best Christmas atmospheres in the world. In this sense, the city you can't miss is Berlin, where there are almost 60 markets of this style. All of them amazing!
But also worth mentioning are the Christmas markets in Heidelberg, which stretch over several squares and host the most outstanding brewers and winemakers. On the other hand, Erfurt is a city with a remarkably medieval feel, which gives Christmas markets in Germany more magic. With its stately homes, blue textiles and bright lights, Erfurt is a hidden gem of a flea market.
In Nuremberg, with its gothic style, you'll see how its main square lights up with hundreds of people selling their crafts and Christmas decorations. The best part is that they are usually located in the most touristy part of the city, so getting there shouldn't be an inconvenience.
When do the Christmas markets start in Germany? Traditionally, they take place from November 21 to December 24, although depending on the city, this date may vary slightly.
The Christmas Meal in Germany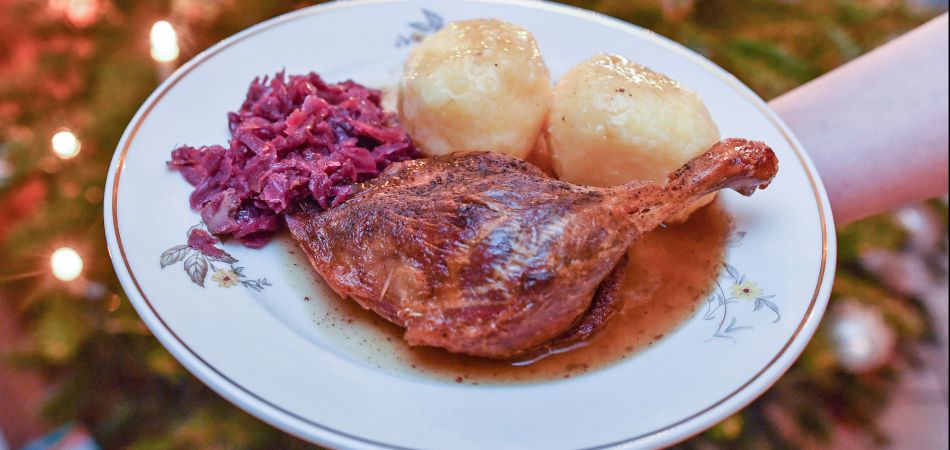 A Christmas meal in Germany that cannot be missed is potato salad with sausages. In fact, it is estimated that a large number of Germans eat this preparation. The origin dates back to the time when, in the Christian tradition, people fasted from St. Martin's Day until December 24 and it was customary to put on the table a simple preparation. In addition, carp is usually prepared with fish, a symbol of fasting.
The Christmas Tree
The Christmas tree in Germany is one of the great classics, because for the Germans it is an essential piece. It is displayed everywhere, from churches to workplaces. During your trip to Germany at Christmas, you will notice that they are everywhere and become a symbol par excellence.
In this sense, the origin of the Christmas tree goes back to the 8th century in Germany. Bonifacio is said to have felled an oak tree. Later, he read the gospel and promised to decorate each year a tree that symbolized peace and eternal life. Now, according to some historians, the Christmas tree in Germany as it is known today is the result of a long process.
Thus, from the beginning, they were decorated with sweets, nuts and fruits. It is believed that the Duchess Dorothea Sibyl of Silesia was the first to decorate the Christmas tree with candles in 1611 and, curiously, this custom has spread in Germany. In 1830, crystal balls were added. In 1878, angel figures and straw stars were added.
In the 18th century, the Christmas tree was typical of members of the upper class. In the 19th century, Christmas became a custom in Germany, and at the same time the world began to include this decorative element.
Gluhwein
If you are still not convinced or if you are afraid of the cold that characterizes much of the country during the winter, know that even if the temperature can be around 0º C, you can warm up by drinking Glühwein , a delicious German alcoholic drink that consists mainly of mulled wine with spices. You have no excuses!