Are you looking for a destination to get started in yoga? Or maybe you are a fan of this discipline and don't know how to travel without your mat? In any case, you'll surely be interested in learning the best vacation destinations to practice this beautiful art while disconnecting from your day-to-day tasks and enjoying cultural visits. Take note!
#1. India
India is the cradle of yoga, meditation, and Ayurveda medicine, which are increasingly popular worldwide. Taking a retreat in this place is unique because it is part of everyday life and is where the most authentic teachers reside. The Osho Meditation Resort, sixty kilometers south of Mumbai in Pune, stretches through sixteen waterfalls and tropical forests. Another well-known place to practice yoga in Rishikesh, a city located at the Himalayas foot and next to the Ganges River. The International Yoga Festival is held here, one of the most important yoga events in the world. Another option is to retreat on the beach: at Little Cove Yoga Retreat, located in Goa, you can sleep in cabins on Cola Beach and enjoy the sunsets on the beach's shore. 
#2. Indonesia
Indonesia is one of the most spiritual destinations in Southeast Asia, especially Bali, also known as the "Island of the Gods." Its vegetation, its tropical climate, and its mystical character have aroused thousands of yogis' interest. This island contains many yoga schools and more than 500 spiritual retreats, most of them in Ubud. In The Yoga Barn, you can practice all styles of yoga, acupuncture, Ayurvedic massage, or meditation in the middle of the jungle. On the outskirts of Ubud, the Blooming Lotus Yoga center, next to the river and overlooking a sacred temple, is ideal for a yoga retreat where you can revitalize yourself. If you prefer a youthful and surfer vibe, you should totally visit Bali's yoga holiday, another perfect destination in Canggu. In this area south of the island, you can practice yoga near the beach in Serenity.
#3. Thailand
In addition to being a country where the possibilities to do yoga are enormous, Thailand is one of the cheapest places. If you are looking to settle for months in contact with yoga, Chiang Mai is the perfect place. For example, in Wild Rose Yoga, you can train as an instructor. If you need to be near the sea, you can do your yoga sessions in Koh Phangan, Koh Samui, or Koh Yao Noi. You can enjoy a yoga vacation at centers like Samahita Retreat or Island Yoga on these beautiful islands.
#4. Costa Rica
The rainforests and the two oceans that hug Costa Rica become magnetic energy sources; they are ideal for a yoga vacation. The Luna Lodge is perfect for those who want to relax in the forest. However, the landscape of palm trees and crystal clear water of Santa Teresa beach is also an attraction for yogis who wish to practice meditation. Nautilus Boutique Hotel, perched on a rock ledge overlooking the Pacific Ocean, offers multiple yoga sessions. The rainforests and the two oceans that hug Costa Rica become magnetic energy sources; they are ideal for a yoga vacation.
#5. Finland
Retreats in the town of Loviisa, an hour's drive from Helsinki, are usually held at Villa Mandala. One of the specialties of this space is the Bikram Yoga sessions, that is, the practice of yoga in a room at 40 degrees of temperature, but with the difference that in this villa, they do it in a traditional wood-burning sauna. Also, the center organizes night walks through the woods.
#6. Spain
If you don't want to go too far, Spain has some ideal destinations for yoga vacations, such as the Balearic Islands. Not surprisingly, the Mediterranean landscapes are a source of inspiration and relaxation. Inspira Yoga, which has centers in Menorca and Ibiza, organizes retreats consisting of excursions with yoga and a picnic to meditate at sunrise or sunset in front of the sea. If you prefer the mountain scenery in Las Alpujarras de Granada in Andalusia, you can find the Kaliyoga center, a place to relax, practice yoga, and hiking. SunBear Adventures, in Lleida, Catalonia, is a good option if you want to enjoy an exclusive and picturesque space. You will find hiking, meditation, yoga, fitness sessions, and even wine tasting and visits to local wineries in their retreats. At the April retreat, Perfect Balance presented the organization with Initia mats so that attendees could comfortably enjoy their yoga classes.
#7. Morocco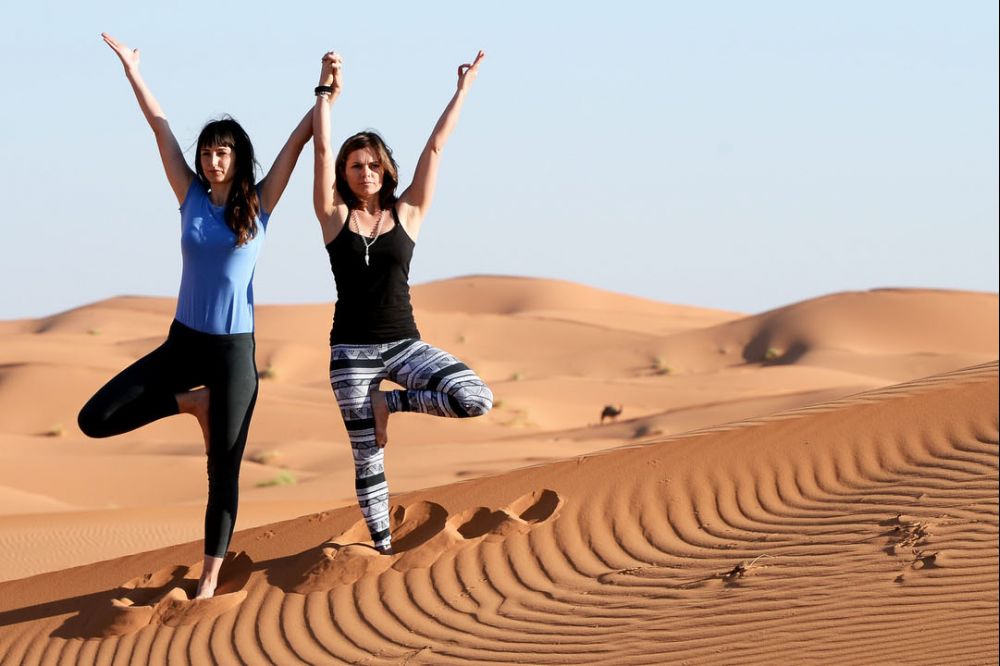 We close the list of places for travelers passionate about yoga with Morocco. This country has become fashionable in recent years for being a very cheap and accessible destination from Spain. There are more possibilities to practice yoga in front of the Atlantic's waves or the Sahara dunes. Surf Maroc, located in Taghazout, offers retreats that combine yoga with surfing if you prefer the first option. If instead, you want to live a unique experience in the desert, our ambassador Ainània, organizes a retreat in the Sahara from November 16 to 23 that will not leave you indifferent.  
Have you enjoyed a yoga vacation in any of these countries? What is your next destination? Let us know in the comments!
Namaste ☺